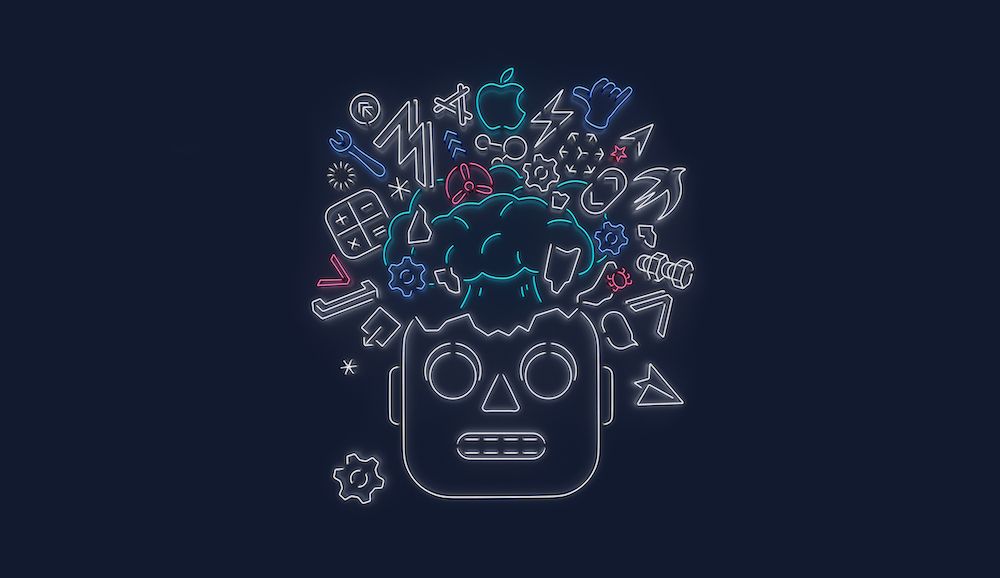 WWDC 2019 is over. Now, it's time to summarised the new things that have been announced.
iOS 13
As always we got a new version of the iOS. Last year, Apple focused on bug fixes and performance, this year we got a new features. Here is the list of the major changes coming this September:
Dark Mode,
Improved Photos and Camera apps,
Improved privacy and security,
Sign In with Apple,
New Maps app,
Improved voice of Siri powered by neural TTS (Text to Speech),
New Memoji and Memoji Stickers,
QuickPath - a new Swype keyboard,
New Reminders app,
Redesign CarPlay
Faster unlocking with FaceID  and faster app launches,
Those are the major changes. If you want to see what else have changed, check out this list or this video.
iPadOS
When new iPad Pros came out, people unanimously agreed that the raw power of the hardware was limited by the operating system. During WWDC, Apple acknowledge this problem, and addressed it by creating a new operating system - iPadOS. Although iPadOS is, right now, the iOS 13, Apple added some cool new features, which might be the first step into creating an iPad a true device that can replace a computer:
Slide Over and Split View,
Multiple instances of the same application,
App Exposé,
New Home Screen with widgets,
New Tool Palette for Apple Pencil,
Full-Page Markup allows to take screenshots of entire document or website,
Brand new text editing gestures,
Floating keyboard,
Sidecar allows to extend workspace by using an iPad as a second Mac display,
Redesigned Files App with support for external drives and file servers,
Mouses are now supported,
Safari on iPad is now a desktop class browser with download manager,
And it also contains all the changes introduced in iOS 13.
Those are only the major changes. The full list is available here.
This is huge release for iPad. Apple tackled most of the complaints people had after iPad Pro premiere.

macOS 10.15
Latest version of the mac operating system is named Catalina. Like the rest, it also comes with cool new features:
iTunes is gone and will be replaced by 3 separate applications for Music, Podcasts and TV,
Supported iPad applications can be run natively on macOS thanks to project Catalyst (formerly known as Marzipan),
Sidecar allows to extend workspace by using an iPad as a second Mac display,
ScreenTime is now also built into macOS,
FindMy combine functionality of Find My iPhone and Fid My Friends,
Approve with Apple Watch allows to authenticate or approve operations on the Mac from the Apple Watch,
Voice control  allows to control the Mac with voice commands,
Notes and reminders app has been redesigned,
macOS comes with ZSH as a default shell instead of Bash.
The full list of changes is available here.
watchOS 6
Changes made to watchOS as not as spectacular as for other systems, but they are definitely the nice step forward:
AppStore for watch allows to install apps independently from iPhone,
Activity Trends allows to track activity progress over time,
Cycle tracking is a new app dedicated for women,
Hearing health monitors the level of noise and alert a user when it's too loud,
And as always new watch faces, but still no custom ones 😢.
New Mac Pro
Apple has finally showed us the new Mac Pro. Apple listened to criticism and delivered truly powerful and modular computer. The top specification is mind-blowing:
28-Core 2.5GHz Intel Xeon W with Turbo Boost up to 4.4GHz
1.5TB of DDR4 ECC RAM,
2 AMD Radeon Pro Vega II Duo cards with total of 128GB of memory,
4TB SSD,
1.4 KW PSU,
Eight PCI Express expansion slots,
Afterburner card for accelerating ProRes and ProRes RAW footage manipulation,
I/O card with 2 USB3 and 2 thunderbolt ports,
Two 10Gb Ethernet ports,
802.11ac Wi-Fi and Bluetooth 5.0,
Built-in speaker and 3.5 mm headphone jack.
This computer is a beats. It's both luxurious and powerful at the same time. Unfortunately not many people will be able to afford this computer. Even the base model starts at $6000, so the maxed out version will be around $30k. Despite the price, I'm really glad to see that Apple listened and created both modular and powerful computer.
Pro Display XDR
Alongside with Mac Pro Apple also announced new Display. Here is the specification:
32-inch display
Resolution: 6016 x 3384 pixels (6K)
Brightness: 1000 nits sustained, 1600 nits peak,
Contrast ratio: 1,000,000:1,
Color: P3 wide color gamut, 10-bit depth for 1.073 billion colors,
This monitor, with both specification and pricing, is definitely dedicated for professionals. The version with standard glass costs $5999 and the version Nano-texture (antireflective) glass costs $6999. Both prices are only for the displays as the stand is not included in the box. The dedicated stand costs $999 and visa adapter "only" $199.
Lack of the stand caused a small outrage over the Internet. As I mentioned before, this monitor is dedicated for professionals and apparently selling products without obvious elements is a common practice 🙁
Interesting links
---
Image credits: Apple
---