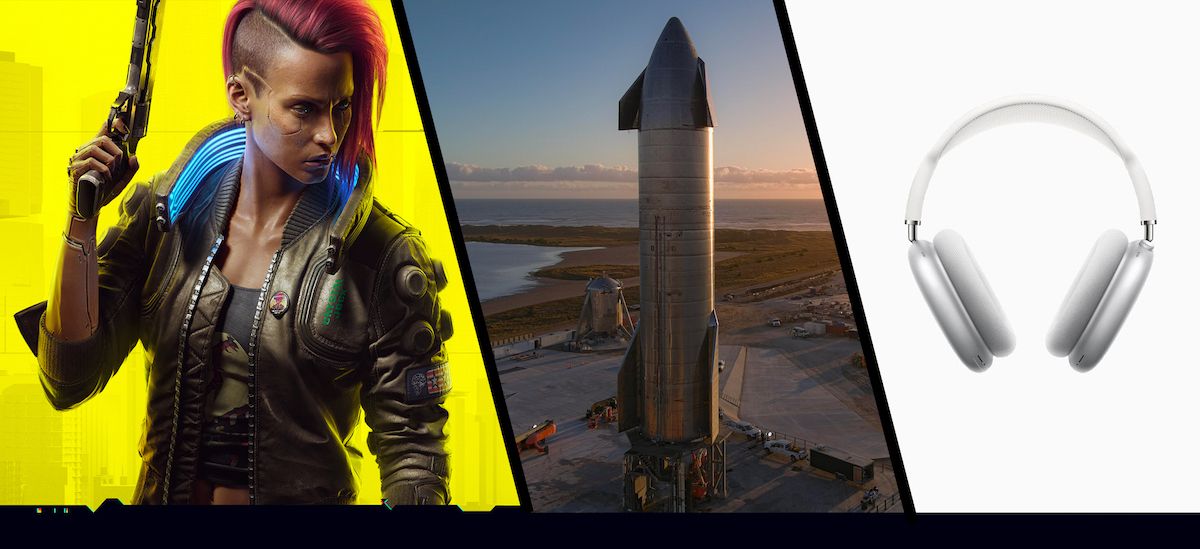 Cyberpunk 2077 released
CD Project Red, after 9 years of development, finally released the Cyberpunk 2077. First reviews are very positive. CDP Red once again delivered very solid game, although it is far from being perfect. The game is hunted by many little bugs. Bugs are not  unexpected as the game is huge, but they make the  experience less pleasant.  Overall it looks like Cyberpunk is solid game and it somehow met the expectations.
Starship launch
Space X has performed a test flight of the Starship. The launch was verifying following scenario:
✅ Launch Starship,
✅ Achieve altitude of 12.5 KM,
✅ Shutdown engines and rotate rocket on it's belly,
✅  Fall free,
✅ Turn on engines and rotate the rocket to the vertical position,
❌ Land on the ground.
The test  ran perfectly until the landing. The pressure in fuel cells was too low, which resulted in higher touch down speed than anticipated, which ultimately caused an explosion.
Despite the fact, that Starship is gone, the test was successful.
AirPods Max
Apple announce AirPods Max - the over-ear noise-canceling headphones. Here are selected features:
Active Noise Cancellation,
Spatial audio with dynamic head tracking,
Audio Sharing,
Digital Crown for controlling volume and playback,
Magnetic ear cups,
Apple H1 chip, in each ear cup, for fast connecting with Apple devices and device switching,
Sensors in each cup can detect whether they are placed on a user's head and pause playback when removed,
Bluetooth 5 compatible,
20h of battery life,
Come in five colors: space gray, silver, sky blue, green, and pink.
AirPods Max  will be available from December 15th for $549.
New ARM macs in 2021
According to latest rumors, Apple is working on new 32-core chip, that will be shipped with upcoming iMacs and 16-inch MacBook Pros. Looking at performance of the current M1 chip, it is something worth waiting for.
Apple Fitness+
Apple also announced that Fitness+ will launch on December 14th. The workout service will be available only in Australia, Canada, Ireland, New Zealand, the UK, and the US  for $9.99 per month or $79.99 per year.
Disney plans
Disney have unveiled their plans for the foreseeable future.
Star Wars:
Star Wars: Andor (TV); 2022,
Obi-Wan Kenobi (TV); 2022,
Ahsoka (TV),
Rangers of the New Republic (TV),
Star Wars: The Bad Batch (TV),
The Acolyte (TV),
Star Wars: Lando (TV),
Droid Story (TV),
Star Wars: Visions (TV),
Rogue Squadron (Movie); 12.2023,
Untitled Taika Waititi Film; 12.2025.
Marvel:
WandaVision (TV); 15.01.2021,
Falcon and the Winter Soldier (TV); 03.2020,
Loki (TV); 05.2021,
Hawkeye; 2021,
She-Hulk (TV),
Ironheart (TV),
What-if? (TV),
Moon Knight (TV),
Miss Marvel (TV),
Secret Invasion (TV),
Armor Wars (TV),
Black Panther 2 (Movie), 07.2022,
Ant-Man and the Wasp: Quantumania (Movie),
Fantastic Four (Movie).
Dope links
---
Image credits: Apple