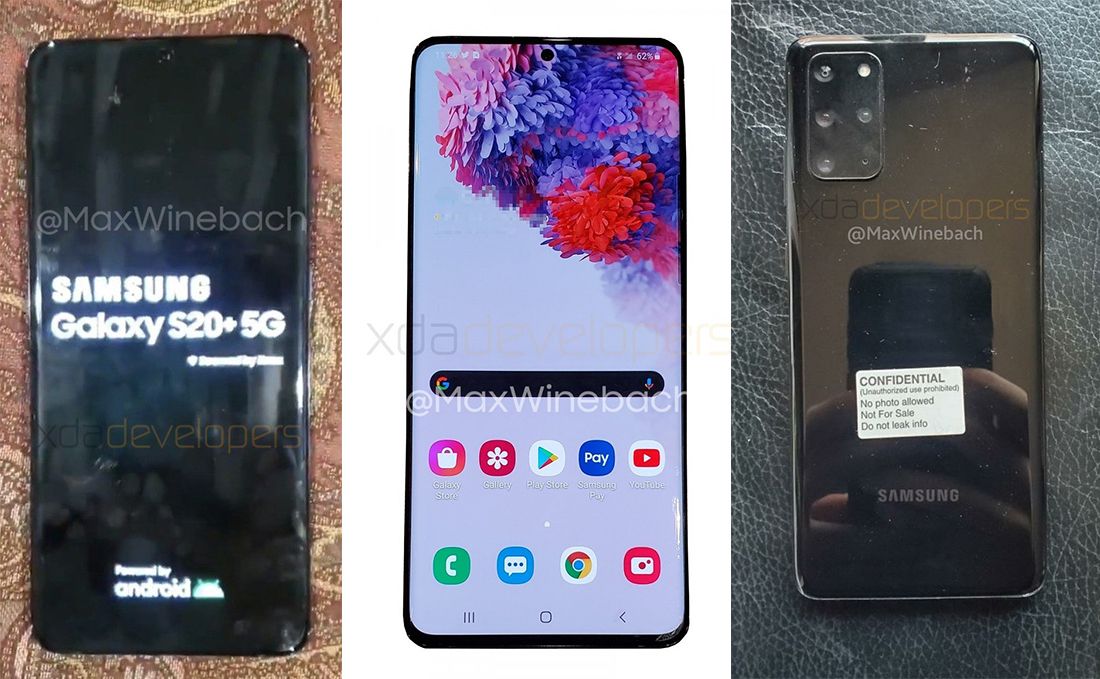 Samsung Galaxy S20
XDA Developers leaked the photos of the successor to Samsung's flagship phone - Galaxy S10. What's interesting, Samsung is not going to just increment the number to S11, instead they are going to jump ahead to S20. Probably Samsung is naming is based on current year.  Other visible differences are:
front facing camera cutout is closer to the center of screen,
rear camera has 4 lenses:  regular wide, an ultra-wide, portrait, and a macro,
body is less curved.
For the rest of the spec, we'll have to wait until February 11th.
New iPhones and iPads with faster 5G
According to Ming-Chi Kuo, this year iPhone will support both sub-6GHz 5G (slightly faster than LTE) and faster mmWave 5G (closer to WiFi transfers). Previous reports suggested only the the former, so this week rumor is a nice surprise. Of corse, it is possible that faster 5G will be available only in selected models of iPhone.  That would line up with  last week rumors,  that new iPhones might have staggered rollout.
Also, according to DigiTimes, upcoming iPads will get faster 5G as well.  Although, this feature might be limited only to iPad Pro lineup.
New MacBooks coming soon
Apple has register portable and unreleased Mac in Eurasian Economic Commission database. Common sense indicates that might be new 13-inch, or maybe even 14-inch, MacBook Pro with a scissor keyboard. Regardless, of the screen size, new Mac will be released within couple of weeks.
Windows 7 is dead
After 11 years, Microsoft is officially ending support for Windows 7. Although, users should not get any bug fixes or feature updates, Windows 7 will share the fate of Windows XP, and Microsoft will be releasing critical security updates for couple more years.
New Microsoft Edge is out
Microsoft has finally released the stable version of the Edge browser based on the Google's Chromium web browser project. New Microsoft Edge is available on both Windows and macOS.
Cyberpunk 2077 delayed
Cyberpunk 2077 has been delayed by 5 months.  In the special statement,  CD Project Red (CDPR) announced that the released date has been moved to September 17th.
Cyberpunk 2077 is one of the most anticipated games of this year, and it is not a surprise, that CDPR want to polish the game and release the best game possible. CDPR did similar move with Witcher 3, which also was delayed for 3 months and turned it to be one of the best RPGs ever. So, there is nothing to worry about, all we need to do is be patient.
SpaceX Crew Dragon Launch Escape Demonstration
On Sunday, SpaceX performed the final test of the Crew Dragon. The goal of this mission was to verify the escape mechanisms of the Crew Dragon capsule.
Less than one and half minute after Falcon's 9 launch, Crew Dragon separated from the booster. Seconds later rocket itself was destroyed. Meanwhile, Crew Dragon achieved safe distance and parachuted in the ocean.
The test looked to be successful. If the telemetry confirms that, it means that SpaceX will be in the home stretch to send first astronauts into space.

Dope links
---
Image credits: XDA Developers